OUR COLLECTION
TOPS & BLOUSES

VESTS

SKIRTS
About T&t Stories
As a German contemporary fashion label, T&t Stories stands for high-quality eye-catching pieces - always produced in small quantities as well as fair.
MORE
As seen in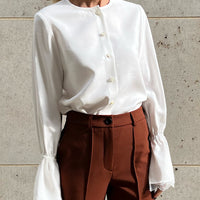 Description
Delivery & Return
CHLOE again is a further development of a blouse we already had at T&tStories. Following KARINE blouse with slit sleeves, CHLOE is cut fitted, with very narrow armholes and sleeves that end in a pretty flounce cuff with decorative lace hem ... especially beautiful when they peek out of a blazer or under a sweater. Please note the given centimetre measurements when ordering, because CHLOE tends to run small.
CHLOE ist erneut eine Weiterentwicklung aus einer Bluse, die wir auch bereits hatten bei T&tStories. Ihr Vorgänger hieß KARINE und hatte geschlitzte Ärmel. CHLOE ist eher figurbetont geschnitten, mit sehr schmalem Armloch und Ärmeln, die in einer hübschen Volant Manschette mit Spitzen Saum enden ... besonders schön auch, wenn sie aus dem Blazer oder unter dem Pullover herausschauen. Bitte beachten Sie die angegebenen Zentimeter Maße beim Bestellen, denn Chloe fällt eher klein aus.

DEATAILS & CARE
Centimeter measurements under the arms / across the chest
34 = 46cm / 36 = 48cm / 38= 50cm / 40= 52cm / 42= 54cm
Length 67 cm
100 ECOVERO Viscose
Gentle machine wash 30 degrees, do not tumble dry
CONNECT WITH US ON INSTAGRAM
FAQ
With effect from 1.7.2021 I am obliged to pay the country specific tax for all my sales within the EU. Therefore, you will be shown your country's direct tax rate when purchasing, which may result in odd sales prices. Example: Blouse Ayline 189 Euro (19% VAT Germany) Blouse Ayline 192,17 Euro (21% VAT Spain).
If the delivery is made to a non-EU country, additional customs, taxes or fees may have to be paid by the customer to the responsible authorities. You are advised to inquire about the details with customs or tax authorities in your country before ordering. We are sorry to say that we have no control over these costs, and also cannot give you any detailed information on what the costs will be, as custom policies and import duties vary widely from country to country. Please be aware that your parcel can be delayed by customs and for this reason additional charges can be applied. We apologize for any inconveniences.